Details: Ian Bell's Elite pages
Ian Bell's Elite pages
cool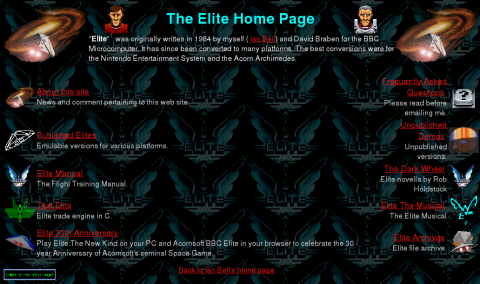 "

Elite

" was originally written in 1984 by myself (Ian Bell) and David Braben for the

BBC Microcomputer

. It has since been converted to many platforms. The best conversions were for the

Nintendo Entertainment System

and the

Acorn Archimedes

.
Provides all published versions of Elite known to man for download, plus the flight training manual, a trade engine in C, an FAQ, unpublished demo versions, an Elite musical(!), and a file vault with many interesting tidbits, including certain legal documents...
URL:
http:/​/​www.iancgbell.clara.net/​elite/​
Category:
Top:
/
Classic Computer & Video Games
/
Individual Games
/
Elite
Language(s):

Tags:
archive
demos
downloads
elite
faq
ian bell
manuals
musical
source code
Added: 2003-11-12
Updated: 2012-10-13
Hits: 916
EDIT
Search: