Details: .TZX Vault, The
.TZX Vault, The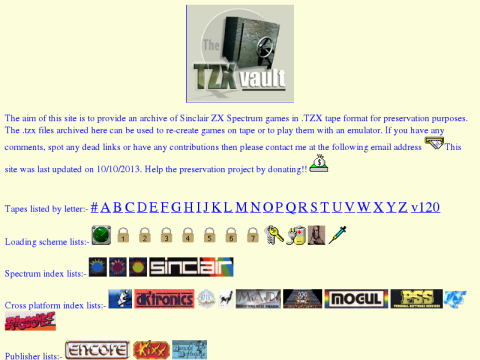 The aim of this site is to provide an archive of

Sinclair ZX Spectrum

games in .TZX tape format for preservation purposes. The .tzx files archived here can be used to re-create games on tape or to play them with an emulator.
Also has
Amstrad CPC
,
Commodore Plus/4
,
C64
, and
VIC-20
tapes.
URL:
http:/​/​www.tzxvault.org/​
Category:
Top:
/
Emulation
/
Archives
Language(s):

Tags:
archive
c64
cpc
plus/4
preservation
tzx
zx spectrum
Added: 2003-11-12
Updated: 2014-02-23
Hits: 792
EDIT
Search: